The decoupling of miners' stocks like Marathon Digital Holdings (NASDAQ:MARA) and Riot Platforms (NASDAQ:RIOT) with Bitcoin's (BTC-USD) price some three months back as per the chart below shows that there are underlying changes underway in the cryptocurrency ecosystem as this thesis will further elaborate upon.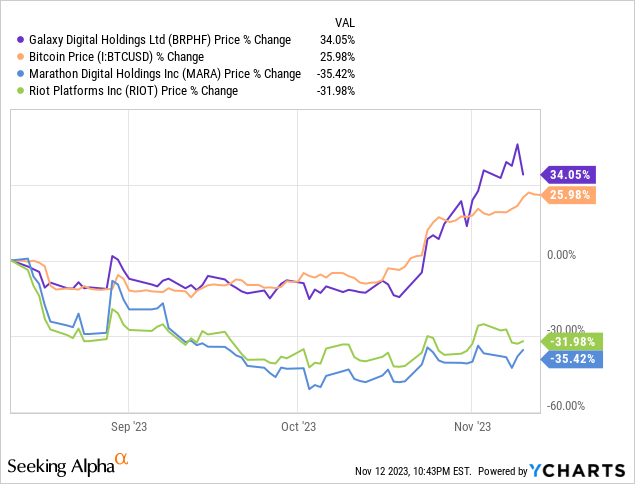 On the other hand, Galaxy Digital (OTCPK:BRPHF) (TSX:GLXY:CA) which also provides exposure to crypto mining continues to see its stock moving in tandem with BTC as shown by the deep blue chart above. Based on this market action and by going through the diversification it offers across the crypto ecosystem, this thesis aims to make an investment case for Galaxy.
This bullish position contrasts with my earlier Hold thesis back in April 2022, when I had cautioned that the stock was not a buy because of regulatory uncertainty related to its acquisition of crypto custody platform BitGo. This deal has since been scrapped with the stock seeing a 62% value erosion since my publication.
Galaxy's Mining Business
First of all, Galaxy is an investment company focused on digital assets. It offers a wide range of financial services related to cryptocurrencies such as banking, advisory, and lending, while not forgetting asset management solutions. The company also invests or generates passive income by holding coins, similar to a term deposit account.
As for its mining operations, these provided $14.3 million of revenues in the third quarter of fiscal year 2023 (Q3) reported on November 9th with the production capacity (or computing power) amounting to 3.9 exahash per second (EH/s) at the end of September. These comprise 1.8 EH/s for proprietary mining with the rest dedicated to hosting or leasing computing power to other miners. It produced 309 BTCs during Q3, with additional capacity being added through the deployment of already-purchased mining equipment, with a total of 5 EH/s expected by the end of the first quarter of fiscal year 2024.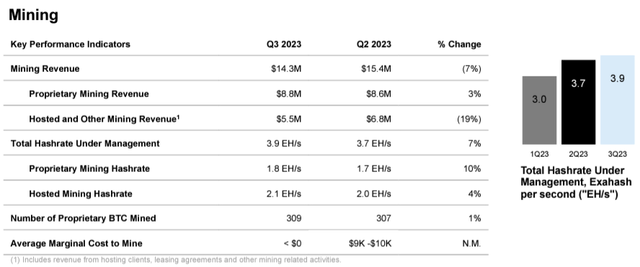 This increase in capacity, by around 25% is crucial in order to sustain production given the increasing network difficulty as new computing power (or hash rates) gets constantly added to the network. This in turn makes the process of solving complex mathematical computations required to produce crypto out of the blockchain network harder.
There is another reason for rapidly increasing capacity given that April 2024 will mark the Bitcoin halving event when the reward for adding a block to the global blockchain will drop to 3.125 BTC from 6.25 BTC now. This implies that revenues will fall drastically while at the same time this event which aims to increase the value of Bitcoin by making it more scarce, should result in cutting the rate at which new coins are put into circulation. At the same time, high interest rates make it more difficult to finance capital expenditure to procure new mining gear while higher inflation-led energy cost raises operating expenses, especially those pertaining to energy. All these factors favor a reduction in the supply of new Bitcoins.
Looking across the industry, Galaxy's production capacity is far less than Marathon Digital Holdings (MARA) one of the largest publicly traded miners in North America with a capacity of 15.8 EH/s at the end of September, resulting in the production of 1,242 coins in that month alone.
Therefore, going into the halving event, Marathon's vastly superior capacity to mint BTCs appears more alluring, but, for these to be converted into higher revenue levels, a lot will depend on Bitcoin's value at that time. This implies that demand for Bitcoin has to be sustained, which may not be the case this time according to an article by Cointelegraph.
On the other hand, with only partial exposure to mining, Galaxy appears better placed as an end-to-end services provider in this industry. However, its market cap of only $1.73 billion, which is less than Marathon's $2.14 billion raises the question of whether it has sufficient scale.
A Diversified Company
Looking at the loan origination of $117 million and $553 million of average loan book size as of Q3 for the lending business, and as per the management, the company has rapidly become a "major collateral-backed lender" in the crypto space. Related revenue from lending and staking was $14 million for Q3 representing more than 100% YoY surge.
In addition, its investment banking pipeline has been growing despite the challenging M&A backdrop, with about $2.2 billion in deal value.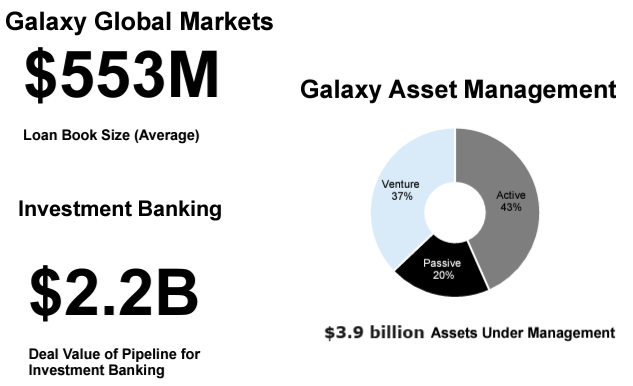 Looking further, Michael Novovratz's founded company also differentiates itself by offering market research and analysis services, geared specifically at cryptocurrencies. For this purpose, the founder used to be a partner at Goldman Sachs (GS) in 1998, one of Wall Street's big investment banks, before becoming the President of Fortress Investment Group LLC in 2002. Thus, his experience which also included serving on the New York Federal Reserve's Investment Advisory Committee on Financial Markets from 2012 to 2015, has been key to growing Galaxy's asset management business to $3.9 billion in Q3, or a 58% YoY increase. In this respect, the company was selected by FTX the crypto exchange which collapsed back in November 2022, for an advisory role to dispose of, stake, and hedge part of its sizable crypto holdings whose dollar value exceeds $3 billion.
As a result of seeing traction for its services, fee-based revenues have surged by 61% over the same period last year to $9.5 million in Q3, which adds to $15.7 million from derivative gains. However, there were significant losses on Digital Assets amounting to $67.6 million, mostly due to both lower valuations and trading volumes.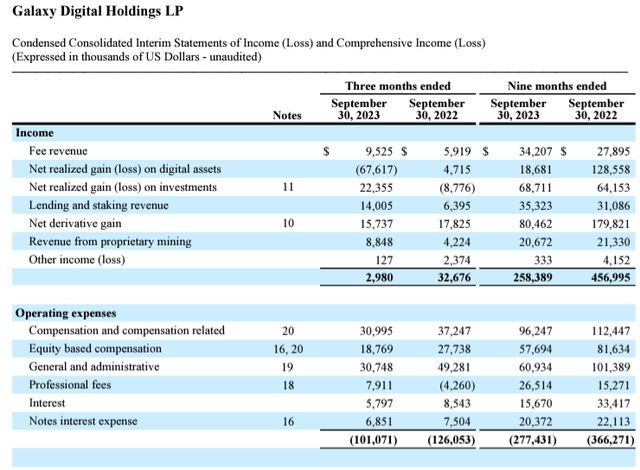 Now lower trading volumes generating only $14 million of sales were due to Q3 characterized by relatively lower Bitcoin volatility or less abrupt fluctuations in its price which resulted in lower buys and sells orders. Now, with an uptick in volatility in October, trading volumes were significantly up, amounting to $24 million or $10 million more than for the whole of Q3.
Galaxy Deserves Better as a Financial Company
Now, imagine the potential trading revenue resulting from halving, since past such events (in 2012, 2016, and 2020) have historically introduced a high degree of fluctuation in the cryptocurrency's price, well before the actual date itself. Therefore, investing in Galaxy could be a way to capitalize on the next halving event especially given that at a forward price-to-sales multiple of 1.55x, it is undervalued relative to the median of the financial sector by 33.76%. Adjusting for a 30% discount, I obtained a target of $7.68 (5.91 x 1.3) based on the current share price of $5.91.
Now, to justify this target, Galaxy is a financial company that forms part of the Asset Management and Custody Banks industry. However, unlike a traditional bank that deals in dollars or other fiat currencies, it operates primarily in the digital asset and cryptocurrency space. Another difference is that with its mining business, Galaxy is also involved in the production of its underlying asset, Bitcoin, whereas it is the Federal Reserve which prints dollars for banks. Thus, with its wider role compared to normal banks, it deserves a higher valuation.
In this respect, given that the company is not profitable, using the forward P/S makes sense. To this end, the $237.6 million of sales estimated by analysts for fiscal 2024 compared to the $358 million estimated for this year appears to ignore the growth in lending activities, investment banking pipeline, and asset management business while not forgetting innovations like GalaxyOne unified digital asset marketplace which can bring more fees income.
Hence, the estimated 27.6% upside would see the stock still trading well below its April 2022 high of $13-$14 and implies that I am being moderate in my expectations. This moderation is exactly the opposite of what is happening today in the market where anticipation that the SEC (Securities and Exchange Commission) will approve a spot ETF application made by giant asset manager BlackRock (BLK) back in June has been energizing the crypto space. In the same vein, a court ruling favoring fund manager Grayscale against the U.S. regulator in its endeavor to convert its GBTC fund to a spot ETF is also interpreted as a positive.
There are Risks but Diversified Exposure to Mining is Positive
However, to be realistic, the SEC has still to give its approval, and if it were to voice out harsh rhetoric, there could be a lot of volatility, which while auguring well for Galaxy's trading business, could reduce demand for its crypto products or reduce the overall value of its digital assets. In this respect, as shown in the Statement of Financial position below, the cash and digital assets mix in the total current assets is now heavily skewed towards crypto. Therefore, while Galaxy scales further and holds more digital assets, the dollar value of its balance sheet will tend to fluctuate with Bitcoin's volatility. This is a risk factor that investors have to contend with.

Still, to mitigate against volatility, $395 million of its liquid assets at the end of Q3 consisted of cash and equivalents, as well as Stablecoins which are able to minimize volatility by pegging to a fiat currency like the dollar. Furthermore, the company has been using part of its cash for stock buybacks, namely to repurchase 1.2 million shares at an average price of $4.69 from July to October, thereby increasing shareholder value.
Furthermore, investing in Galaxy is an astute way to obtain exposure to Bitcoin miners, whose stocks are now underperforming relative to the cryptocurrency in view of increasing mining difficulty and the forthcoming halving event. In this respect, it has a more diversified structure including proprietary mining, lending, asset management, and derivatives businesses.
Again, adding a cautious note, the particular way the company hedges energy costs (instead of opting for lower energy sources such as renewables like Marathon) has translated into lower Bitcoin production costs in the summer months, but, conversely, these may give rise to elevated costs in winter in view of higher heating-driven demand. Finally, mining margins could suffer temporarily, but, as shown in the income statement above, being well-diversified into other lines of business should help offset the adverse effects of higher energy costs.
Editor's Note: This article discusses one or more securities that do not trade on a major U.S. exchange. Please be aware of the risks associated with these stocks.