Analis kripto Michaël van de Poppe berbagi pandangan optimis tentang masa depan Bitcoin, memprediksi lonjakan substansial BTC dan altcoin dalam tahun pertama dari fase bull.
Pandangan Van de Poppe muncul seiring meningkatnya peluang disetujuinya spot Bitcoin exchange-traded fund (ETF) dari BlackRock Inc.
Van de Poppe menegaskan bahwa BTC dan altcoin telah menyelesaikan satu tahun dalam pasar bear dan fase akumulasi satu tahun, menempatkannya pada posisi untuk siklus bull yang diantisipasi.
"Kita telah menyaksikan pasar bear selama satu tahun. Kita telah menyaksikan akumulasi selama satu tahun. Dan sekarang kita memasuki periode tahun pertama siklus bullish," tulis Van de Poppe dalam cuitan baru-baru ini, yang dilansir laman Benzinga.
#Bitcoin is entering the first Bull Phase and #Altcoins are entering their first Bull Phase too.

Bitcoin has been enjoying its accumulation period, so did altcoins. During that period, altcoins are suffering heavily, while Bitcoin is grinding upwards.

Now it's time to shine.… pic.twitter.com/jGJ3pb3Ab8

— Michaël van de Poppe (@CryptoMichNL) November 11, 2023
Dalam satu bulan terakhir saja, BTC telah mengalami lonjakan impresif sebesar 38 persen, melampaui ambang US$37.000.
Investor dan pedagang sekarang berada pada titik krusial, mempertimbangkan apakah saat ini adalah waktu yang tepat untuk memasuki pasar.
Menurut analisis Van de Poppe, reli saat ini belum mencapai puncaknya, menunjukkan potensi kenaikan hampir 50 persen dari level saat ini sebesar US$37.000.
"Kemungkinan besar, titik tertingginya akan berada di sekitar US$50.000 hingga US$55.000," ujar Van de Poppe dengan percaya diri.
Analis kripto menekankan pentingnya terobosan US$28.000 dan Bitcoin memegang 200-minggu EMA (rata-rata pergerakan eksponensial) sebagai indikator kunci bahwa pasar bear hampir dapat dikonfirmasi telah berakhir.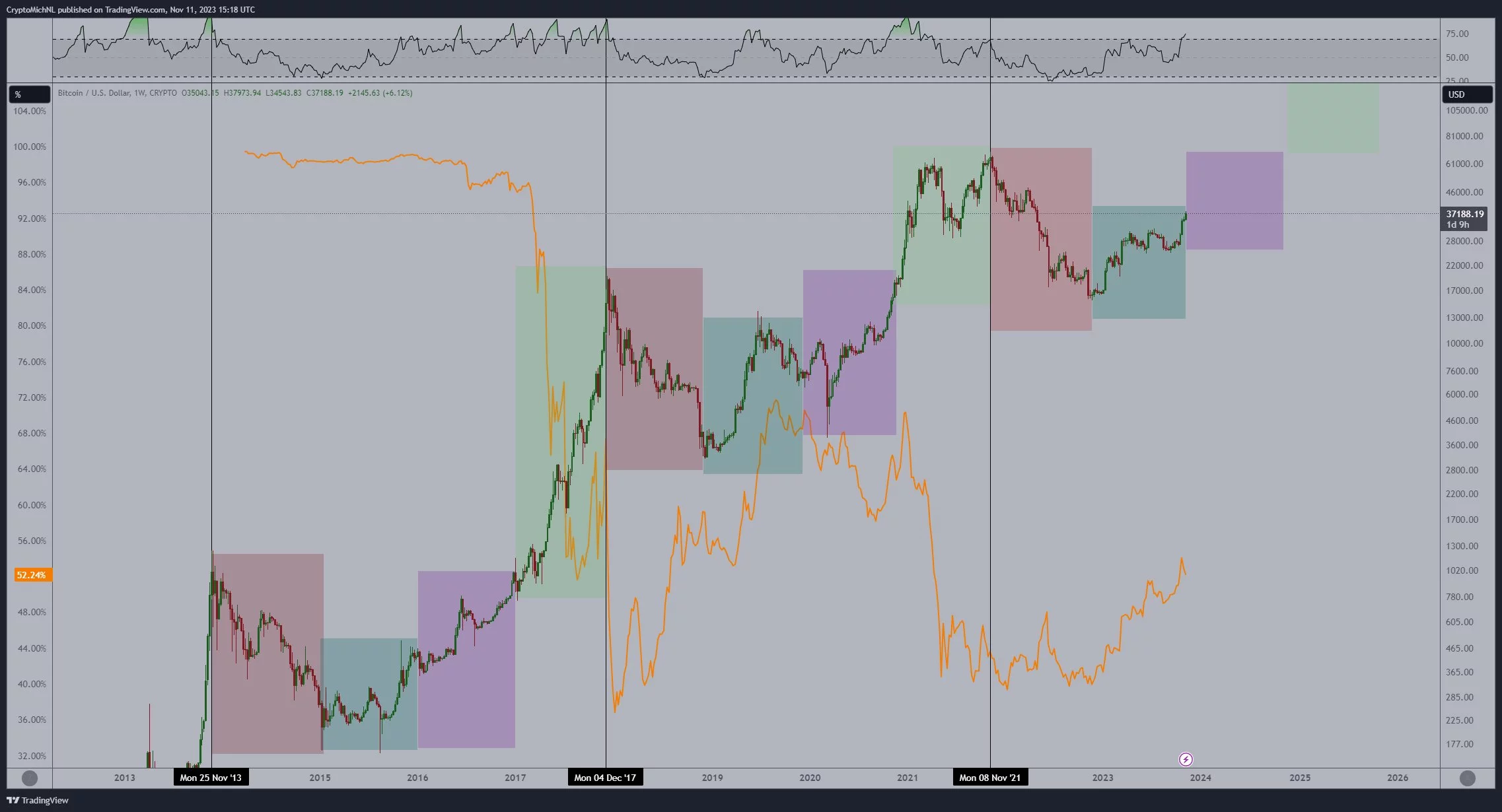 Grafiknya menggambarkan siklus BTC selama empat tahun: satu tahun pasar bear, satu tahun akumulasi, dan dua tahun siklus bull.
Dengan berakhirnya fase bear dan akumulasi, Van de Poppe mengantisipasi dua tahun yang menjanjikan dari siklus bullish BTC dan altcoin.
"Sahabat-sahabat, beli ketika turun. Dua tahun mendatang akan menjadi luar biasa," tegas Van de Poppe mendorong para pengikutnya untuk memanfaatkan potensi penurunan di pasar.
Salah satu faktor yang berkontribusi pada kekuatan Bitcoin baru-baru ini adalah momen halving Bitcoin yang diantisipasi akan terjadi pada tahun 2024.
Sebagaimana diketahui, halving akan memotong hadiah untuk menambang blok baru Bitcoin, mengurangi laju produksi BTC baru. Kelangkaan yang dihasilkan diperkirakan akan mendorong apresiasi harga crypto utama.
Perpaduan faktor-faktor, termasuk potensi persetujuan spot Bitcoin ETF, acara pemotongan hadiah BTC yang akan datang, dan persepsi undervaluasi, semuanya menunjukkan gambaran bullish untuk masa depan Bitcoin.
Namun, penting untuk dicatat bahwa tidak semua orang memiliki optimisme serupa. Kritikus kripto terkemuka seperti Peter Schiff masih tetap skeptis.
Saat pasar kripto terus menarik perhatian baik dari para penggemar maupun skeptis, wawasan Van de Poppe menawarkan narasi yang kuat bagi mereka yang memperhatikan peluang potensial BTC dan altcoin dalam beberapa tahun mendatang. [ab]