The industrial manufacturing sector is in the midst of a major transition to the metaverse, according to a survey of executives conducted by Deloitte and the Manufacturing Leadership Council.
It is a movement that is well under way, researchers said. "Exploring the Metaverse" found that 92% of manufacturers are implementing or experimenting with at least one industrial metaverse use case and that most are running six or more.
The manufacturing segment is optimistic. Seventy-four percent of respondents think that the metaverse will increase profits and 55% expect that it will reduce costs. The survey identified four major "ecosystems:" production (34% of use cases), customer interaction (21%), supply chain design (21%) and talent (17%). 
"The manufacturing industry is positioned to springboard into the industrial metaverse," John Coykendall, the vice chair and U.S. industrial products and construction leader for Deloitte LLP, said in a press release. "The exponential growth of smart manufacturing in recent years has created a strong foundation for implementation and understanding of the value that metaverse-enabling technologies can bring. Companies who innovate with tech-forward strategies, and remain agile and adaptable to implement them, could set themselves apart to unlock future growth and opportunity."
The survey found that almost 40% of organization plan "substantial growth" in the use of metaverse technologies. The respondents expect the metaverse to "transform research and development, design and innovation and to enable new product strategies." More immediately, the metaverse is expected to meet challenges including attracting and retaining talent and building supply chain visibility and reliance.
There of course are risks and challenges in creating the industrial metaverse. Implementation cost (51%), lack of talent with the right skills and knowledge (50%) and integration with existing technology platforms and systems (45%) were seen as key challenges by respondents.
Not surprisingly, security is a big concern. Seventy-two percent of respondents are most concerned with the cybersecurity risks, while 55% are concerned with data protection and intellectual property risks, 49% with brand and reputation risk and 37% with privacy of personal information.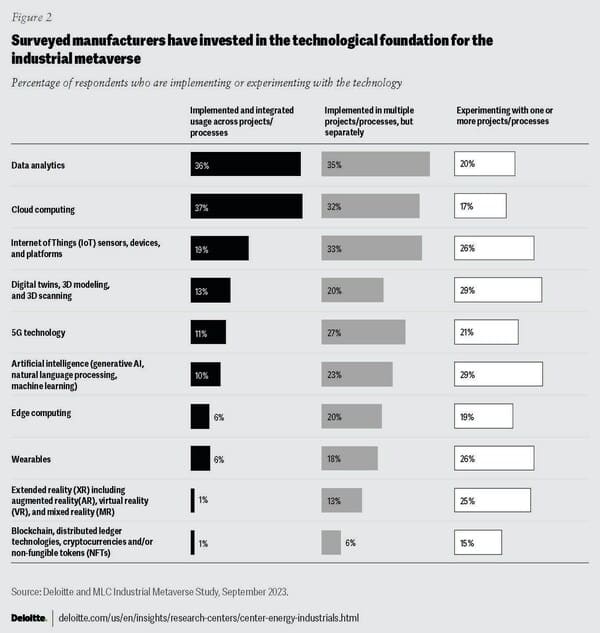 The results are based on a survey of more than 350 senior executives in the United States that was conducted in May and executive interviews with technology leaders conducted in June.
In March, the International Data Corp. lowered its 2023 projections for the augmented reality/virtual reality (AR/VR) category to 10.1 million units. But even that lowered projection called for the category to grow 14% this year and projected a compound annual growth rate (CAGR) of 32.6% between 2023 and 2027.