The U.S. Securities and Exchange Commission (SEC) has opted to postpone its decision on Ark Invest's proposal for a Bitcoin ETF, continuing a longstanding challenge for cryptocurrency assets seeking inclusion on mainstream U.S. financial platforms.
The SEC announced on Friday its move to solicit public opinion regarding a particular amendment in the Ark 21Shares Bitcoin ETF application, potentially prolonging the decision-making process into 2024.
Taking this developing macroeconomic scenario into account, what are the best cryptos to buy now?
The application deadline was initially set for Aug. 13. This recent development adds another layer of complexity to a series of previous delays and deliberations surrounding crypto-related financial instruments.
Cathie Wood, CEO of Ark Invest, shared her perspective with Bloomberg News earlier this week, stating her anticipation that the SEC might consider rulings on multiple fund applications simultaneously.
Other financial giants have also expressed interest in this avenue, with filings for Bitcoin ETFs already in place from industry leaders such as BlackRock and WisdomTree.
Grayscale finds itself in legal limbo, awaiting a court's ruling. Their application, which proposed the transformation of the Grayscale Bitcoin Trust into an ETF, has met rejection from the SEC multiple times.
Earlier this year, the Cboe BZX Exchange submitted a proposal to the SEC, seeking a rule modification to accommodate the Ark21 spot bitcoin fund listing.
This proposal has undergone several revisions, incorporating a surveillance-sharing stipulation similar to the one in BlackRock's Bitcoin fund application.
Past endeavors to establish a spot in Bitcoin ETF have often met with refusal. This year saw SEC Chair Gary Gensler seemingly intensifying scrutiny of the crypto sector.
However, some events hint at a changing tide for the industry. Ripple's recent partial legal win questioned the SEC's endeavors to label the majority of cryptocurrency assets as securities.
Despite the rigorous scrutiny and hesitance toward spot Bitcoin ETFs, the SEC has green-lit the introduction of a number of Bitcoin futures ETFs.
In terms of the cryptocurrency market's reaction, Bitcoin's price showcased slight oscillations, maintaining a position slightly above $29,300 down by 0.24% so far today.
Additionally, the Crypto Total Market Cap currently rests at $1.131 trillion, registering a marginal decrease of 0.38% as of writing.
Given the delays regarding Ark Invest's Bitcoin ETF application and ongoing regulatory uncertainty, cryptocurrencies like Fantom, Shibie, Rocket Pool, Chimpanzee, and Sui appear well-positioned as some of the best cryptos to buy now thanks to their robust fundamentals and/or favorable technical analysis.
Testing the Waters: Fantom (FTM) Seeks Firm Footing Above Key Resistance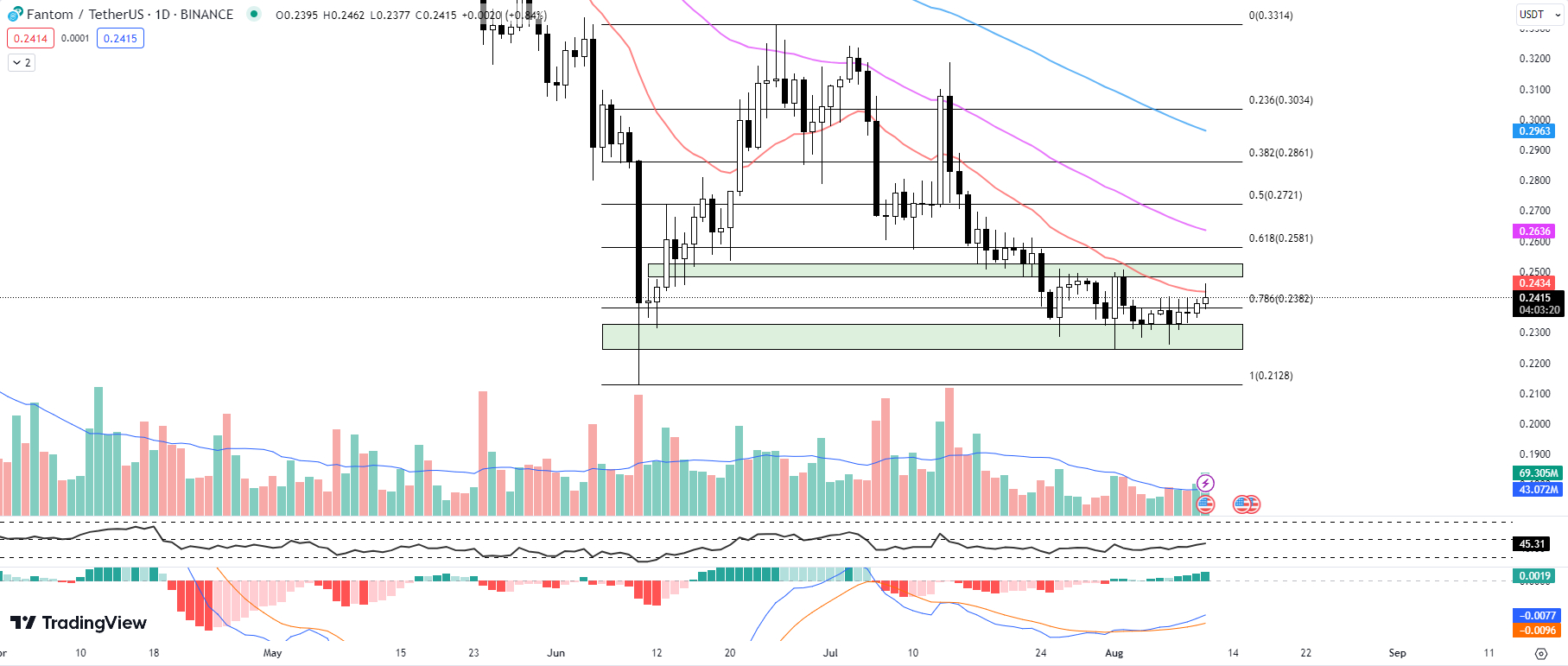 Fantom (FTM) is in a pivotal stage, showing some promising signs of bullishness.
After strenuously attempting to breach the Fib 0.786 level at $0.2382 from August 4 to August 9, Fantom has finally experienced a breakout, posting a 1.27% upside move yesterday.
It is currently trading at $0.2415, marking an 0.84% increase so far today as it seeks to gain firm footing above the Fib 0.786 level, which it is now testing for support.
The 20-day EMA sits at $0.2434, serving as an immediate resistance, with the current price just below this mark.
This, followed by a highly contested horizontal resistance zone ranging from $0.2485 to $0.2526, presents a barrier that traders should monitor closely.
The 50-day and 100-day EMAs at $0.2636 and $0.2963 respectively, illustrate a broader bearish bias in the medium term.
However, recent price action might signal a potential turnaround in this trend.
The Relative Strength Index (RSI), at 45.31, is up from yesterday's 43.73, indicating a slight gain in buying momentum but still nestled in neutral territory.
This might signify that there is room for further upside movement before the asset becomes overbought.
The MACD histogram, with a current value of 0.0019, up from yesterday's 0.0015, also validates the observed bullish sentiment, although the move is subtle.
Traders might find this indicator valuable in confirming the potential continuation of the bullish trend.
The increase in market cap by 1.05% to $675.5 million and the substantial 36.75% surge in 24-hour trading volume to $61.2 million contributed to the favorable conditions for a continued push upwards.
Immediate support is found at the Fib 0.786 level of $0.2382, followed by the swing low support region ranging from $0.2245 to $0.2329.
These levels should be closely observed for signs of stability or a potential breakdown.
The technical indicators for Fantom suggest a tentative bullish sentiment in the immediate term.
Traders may consider leveraging this sentiment by eyeing the resistance levels and monitoring for continued support at the established regions.
Caution should still be exercised, as the broader bearish bias in the moving averages may still have a lingering effect on the asset's price.
The confluence of these technical signals warrants a balanced approach, keeping an eye on the short-term opportunities while remaining cognizant of the underlying trends.
Barbie's Blockbuster Success Inspires Shibie Coin: One of the Best Cryptos to Buy Now
With a mere $200,000 remaining to reach its adjusted fundraising goal of $500,000, the Shibie meme coin, a unique fusion of Shiba Inu and Barbie, is rapidly approaching the final phase of its presale.
The Shibie Coin team is strategically capitalizing on the immense popularity of the Barbie movie, which achieved an impressive $1 billion in ticket sales, to propel their venture forward.
The impending launch of this meme coin has caught the attention of industry experts, who are closely monitoring the presale as it enters its final 72 hours.
The Shibie Coin has taken a distinct path in its fundraising approach by reducing its original goal from $999,999 to $500,000.
The subsequent market capitalization at launch is anticipated to be $833,000. Priced at a mere $0.000167, analysts are watching its potential market movement.
With a loyal YouTube subscriber base of 104,000, Crypto Gains has made a compelling forecast of a substantial price surge for Shibie.
Several top crypto sites, including U.Today, Finbold, and Cryptopotato, have featured Shibie, creating awareness as the presale races toward the finish line.
Time is of the essence, as stated on Shibie's website, and with only 72 hours left in the presale, it could close much earlier due to buyer demand.
Adding to its appeal, Shibie has announced its intention to list on both decentralized (Uniswap) and centralized exchanges (CEX).
Twenty percent of the Shibie token supply will be dedicated to DEX liquidity, and an additional 10% allocated to CEX liquidity, reflecting a strategic vision for the coin.
The choice to include centralized exchanges, which are typically more accessible and cost-effective, indicates an effort to create an inclusive community.
Shibie's offering takes an intriguing turn with the development of an AI-powered Shibie bot for the Telegram messaging app.
This distinctive feature sets Shibie apart from other meme coins, introducing an interactive element in its user experience.
With the immense popularity of the new Barbie film and the viral rise of Shiba Inu-themed meme coins, the ingenious fusion of these two cultural juggernauts in the Shibie meme coin has captured significant attention as it nears the end of its presale.
Visit Shibie Coin Now
Rocket Pool's RPL Token Faces Price Correction Despite Coinbase Ventures Investment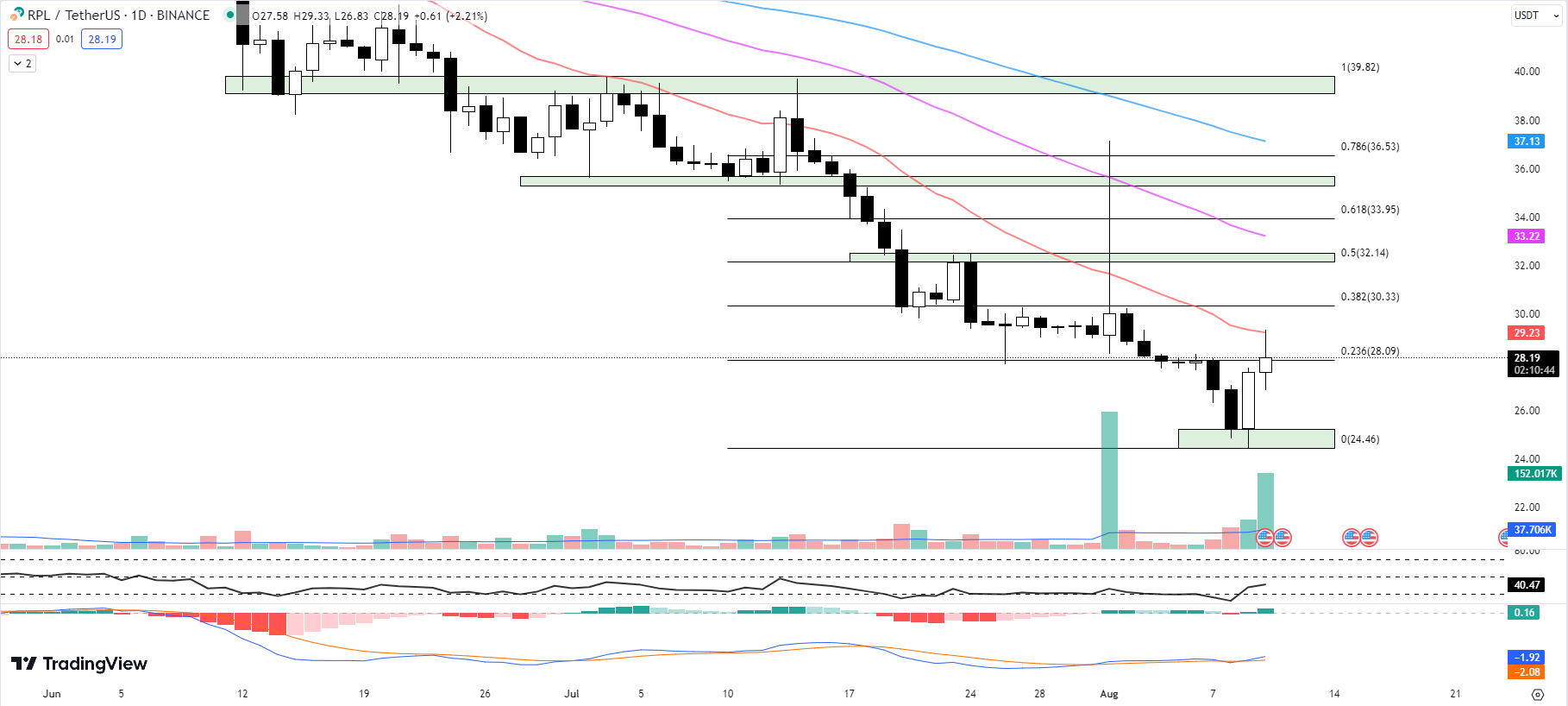 Coinbase Ventures, the investment arm of major cryptocurrency exchange Coinbase, has made a strategic investment in Rocket Pool, an Ethereum liquid staking protocol.
The news was announced on August 10, though specific details of the investment, including the amount of RPL, Rocket Pool's native token, acquired by Coinbase, have not been disclosed.
Rocket Pool (RPL) initially responded to this news with a positive price reaction, closing yesterday's candle with a 4.24% increase.
However, it has since experienced a downturn in its price trajectory and has been unable to maintain the levels achieved in the past two days.
Currently, RPL is trading at $27.28, representing a 5.11% decrease so far today.
The 20-day EMA stands at $29.09, followed by the 50-day EMA at $33.01 and the 100-day EMA at $36.94. The progression of these EMAs indicates a longer-term bearish trend.
Since the current price is below all three EMAs, it is a strong indication that the bears are in control, and the price may continue to face downward pressure in the immediate future.
The RSI is at 38.21, down from yesterday's 43.24. An RSI below 40 usually suggests that the asset might be oversold, hinting at a possible bullish reversal.
The Moving Average Convergence Divergence (MACD) histogram at 0.20, up slightly from yesterday's 0.19, presents a mixed signal.
While the increase may be viewed as a sign of potential bullish momentum, it is too minor to provide strong confirmation without the backing of other indicators.
Market dynamics further illustrate a bearish trend, with the market cap down by 3.44% to $534.4 million, and the trading volume reduced by 61.34% to $6.8 million in the last 24 hours.
A decrease in trading volume often suggests a lack of interest among buyers and may support the bearish trend.
The immediate resistance levels are key for traders to watch. RPL's resistance at the Fib 0.236 level at $28.09, followed by the 20-day EMA at $29.09, will be critical in determining the immediate price direction.
If RPL closes below the Fib 0.236 level, it could signal further bearish momentum.
On the flip side, immediate support is found in the swing low support zone of $24.46 to $25.24.
Should the price continue its downward movement, traders might look for potential buying opportunities within this support zone.
The technical indicators for Rocket Pool (RPL) currently lean towards a bearish bias in the short term. Traders and investors should remain vigilant and utilize proper risk management strategies, considering both resistance and support levels.
Potential entry points for long positions may be identified within the support zone, while a close above the resistance level may indicate a reversal of the trend.
Chimpzee Crypto's $1 Million Milestone: Solidifying Its Position as One of the Best Cryptos to Buy Now
Chimpzee is rolling out a series of token-based initiatives after achieving the milestone of surpassing the $1 million mark in the presale of its native token, CHMPZ.
Among these initiatives is an exclusive CHMPZ airdrop for presale investors. The distribution of tokens will be determined based on their individual investment amounts, with a maximum of ten million tokens to be allocated.
Determined to cement its place as a charitable Web3 crypto project, Chimpzee has donated $20,000 to the WILD Foundation for the protection of the black jaguar.
This initiative is in addition to their previous green gestures: planting a cumulative 21,200 trees across Brazil and Guatemala and a $15,000 contribution to elephant conservation.
Taking a glimpse into the merchandising side, the Chimpzee team recently showcased some upcoming t-shirt designs.
These shirts, available through their merchandise store, will serve a dual purpose: buyers will be rewarded with CHMPZ tokens, and a portion of the proceeds will be allocated to their listed charities, ensuring that the shopping experience remains meaningful.
Another intriguing aspect of the Chimpzee venture is its foray into non-fungible tokens (NFTs).
Currently in stage 8 of its presale, participants can earn the privilege to create a Chimpzee Gold Passport NFT by investing 750,000 CHMPZ tokens.
Possessing these NFTs grants users various advantages within the Chimpzee ecosystem, including a promising 18% APY.
Eight unique designs of these NFTs await the audience, with the NFT marketplace and a 'play-to-earn' game set to roll out in future stages.
On the token front, the CHMPZ token adopts a deflationary stance. The tokens utilized for the Chimpzee Passport NFTs will be removed from circulation.
Additionally, Chimpzee has demonstrated its unwavering dedication to reducing the initial token supply of 200 billion by successfully burning 100 billion tokens so far.
Chimpzee has strategic plans in place to further decrease the supply by an additional 40 billion tokens once the launch takes place.
Highlighting the project's credibility, Chimpzee's team has been verified by Cyberscope, while the CHMPZ token's smart contracts underwent an audit by Solidity Finance.
Visit Chimpzee Now
SUI Faces Resistance at 20-Day EMA: What's Next?
SUI appears to be in the midst of a consolidation phase, following its recent bounce off the Fib 0.786 level at $0.5921.
SUI has been battling selling pressure after reaching an intraday high of $0.6269 earlier today, and despite a brief upward surge, the current trading session is seeing SUI down by 0.97% so far today at the current price of $0.5994.
Key technical indicators are giving mixed signals. The 20-day EMA stands at $0.6188, and the 50-day EMA at $0.6852, both above the current price level.
The 100-day EMA is even further, at $0.8174, suggesting a bearish trend in the longer term. The stock is currently facing immediate resistance at the 20-day EMA, which it unsuccessfully tried to break earlier today.
Yet, there is a glimmer of hope for bullish investors. The MACD histogram shows a fresh bullish crossover from 0.0006 to 0.0015. This could indicate a potential bullish reversal in the days to come, provided the upward trend continues.
However, the RSI has fallen slightly from yesterday's 40.76 to 39.23 today. This suggests a mildly bearish sentiment in the short term, as the stock is currently in a weaker position.
Given these technical indicators, it seems that SUI needs to consolidate further above the Fib 0.786 level at $0.5921 before it can make its next bullish move.
The immediate support is at this Fibonacci retracement level, and holding above this level could provide the stability needed for the next leg up.
Investors should keep a close eye on the MACD indicator for further signs of a bullish crossover and the RSI for any potential shift in momentum.
A sustained break above the 20-day EMA could signify a potential bullish reversal, while a break below the Fib 0.786 level might indicate further downside.
Disclaimer: Crypto is a high-risk asset class. This article is provided for informational purposes and does not constitute investment advice. You could lose all of your capital.